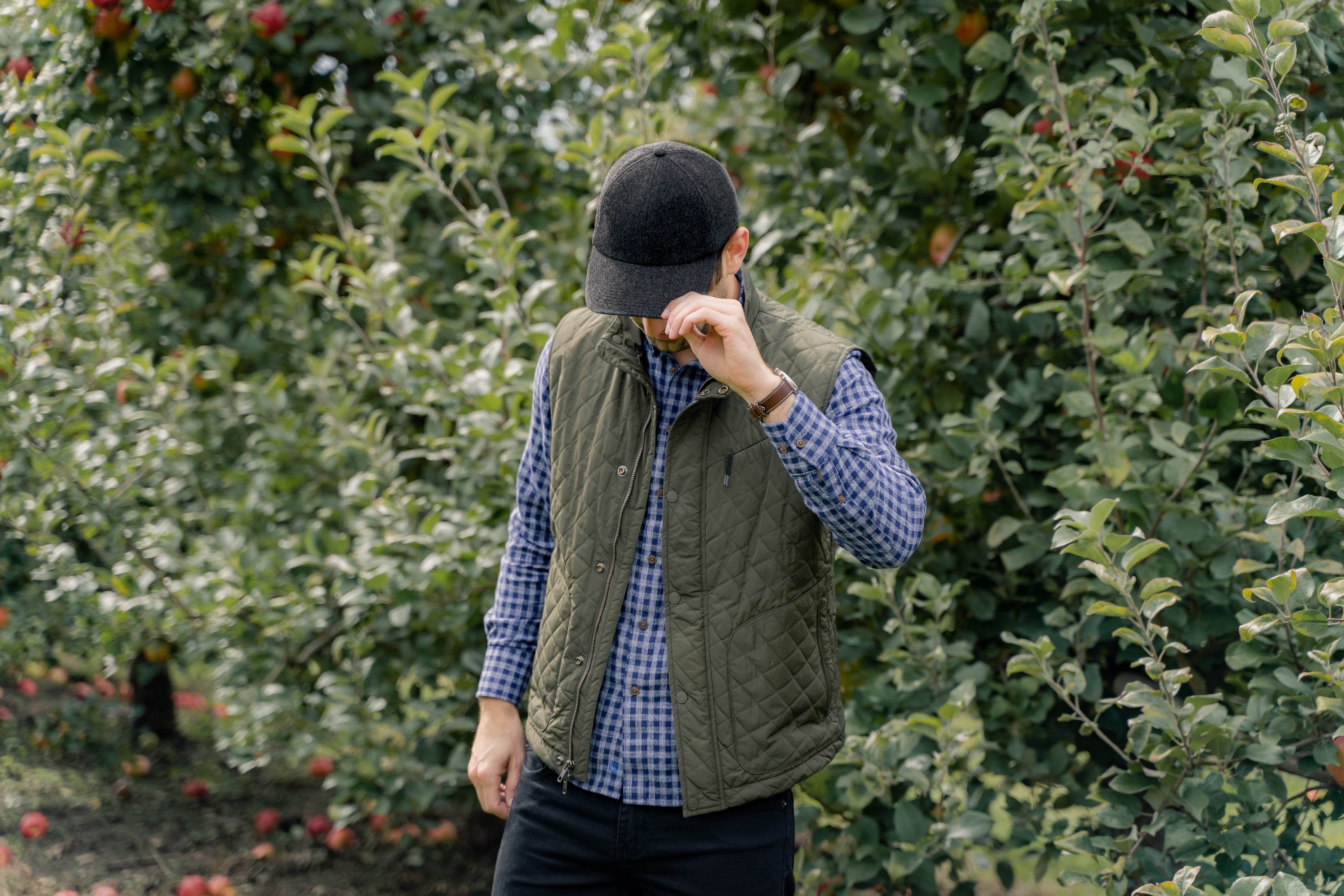 Styling the Vandre Wool Flannel Premium Baseball Hat
The Vandre wool flannel 100% Peruvian wool baseball hat is effortless to style and works with nearly every outfit. The hedge fund gray color was hand selected from a world renowned mill to easily match your go-to cold weather combinations. 
Aside from the times I'm walking the dog or running errands with the hat on, I try to use the hat as my 'hero' piece in styling fall/winter outfits when I know I'm going to be wearing it. I typically stick to my fashion rules when it comes to styling about keeping it simple or going bold. If I'm going bold, I like to do this with one article of clothing in the outfit and keep the rest more subtle. 
Starting with a Friday office look, the hat's luxury appearance makes it perfect to dress up and add a uniqueness factor to your outfit. Here, I'm wearing a shawl collar cardigan, chinos, dark chili wingtip shoes, white dress shirt, and a dark gray tie. I opted for the cardigan instead of a blazer because the hat gives a more casual element to the outfit that works better in this case with a cardigan. The dark gray tie also adds to the subtle matching of the hat. 
Here, a bold pair of burgundy leather boots are the standout item for this outfit. Since burgundy pairs very well with black, I decided to go with black denim and a black shirt with subtle white polka dots. Adding the hedge fund gray hat to this outfit pulls it all together for that cold weather ready vibe.
Following the same structure as above and using burgundy as an example again, I styled a burgundy sweater, dark blue denim, brown wingtip boots, and the hedge fund gray Vandre hat to pull off the look. This is one of my favorite fall sweaters and the dark gray hat helps to tone down the boldness of the sweater. This is also showcasing the hat can be styled with both blue and black just as easily. 
As the temperatures continue to drop in the northern states, especially in Chicago, styling the Vandre hedge fund gray hat with a jacket helps to elevate any colder weather outfit. In the first image I'm wearing a camel topcoat and gray scarf. Both of these items being lighter in color become well balanced with the darker gray hat. 
Moving to the next image, a traditional Barbour navy blue jacket, denim and some plaid is the perfect apple picking combination. 
This image showcases the hedge fund gray hat styled with a black jacket, black denim and black boots. It's an all black that's very monochromatic. Going with a single darker color helps to add to the sophistication of the outfit.
When we're talking about the middle of winter here in Chicago, this 100% Peruvian wool will keep your head warm. To make sure your ears don't freeze, I recommend using a pair of ear muffs. The best part about this combination for winter is that when you're going in and out of places, the hat stays on and just the ear muffs can be removed. This prevents having to wear a winter hat inside! I layer it up with my Pajar winter jacket throughout the entire winter and even wore it many days in single digit weather. 
This is one example of a very casual look with the hedge fund gray 100% Peruvian wool hat. It was a cooler day where I knew we were going to be out for a long time. Over by the lake in Chicago it's always windier and colder, so the hat kept me nice and warm! I'm wearing a black light puffer jacket, black joggers and a pair of black running sneakers.
As always, feel free to reach out with any additional questions!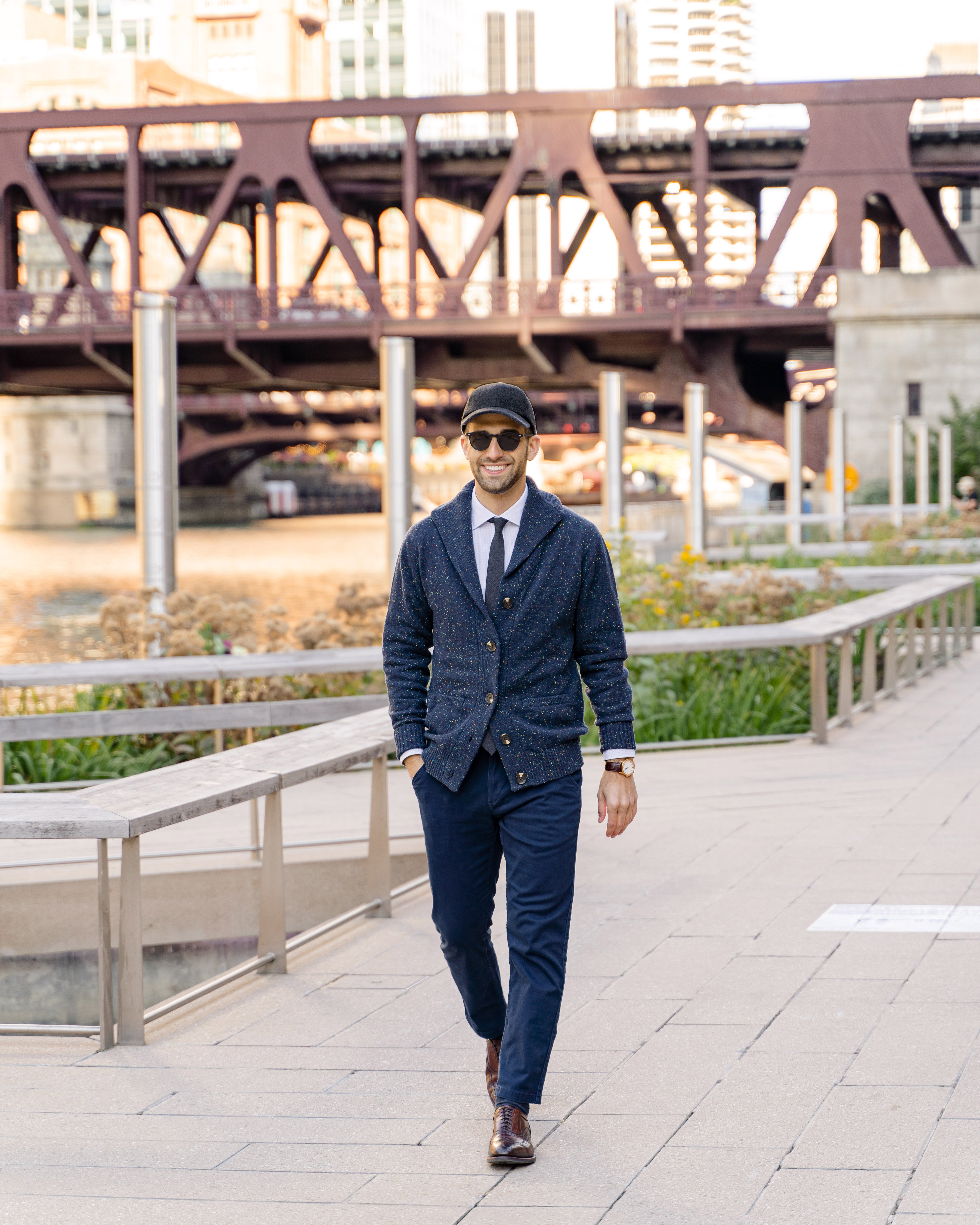 Premium baseball hats are bringing new life to the cap category and rewriting the rules for when and how to wear them. Baseball hats have a history of being worn for casual events and have always h...
Read more